Thanks for downloading the Easy Digital Downloads (EDD) PesaPal plugin. By the time you are done with this, your website will be able to receive payments through the PesaPal payment gateway. This means you can receive M-Pesa and Mobile Money payments for the amazing services and digital goods you sell on your site using Easy Digital Downloads. Awesome? Of course it is.
To get started, you'll need the following:
Your EDD PesaPal plugin license key: You receive this by email as soon as you purchase the product.
The EDD PesaPal plugin zip file: You receive this when you purchase the product
Your PesaPal Consumer Key and Consumer Secret: You get these after you register an account at pesapal.com
Go to your WordPress admin dashboard, go to plugins, select to add a new plugin and select the zip file you received. Upload and activate it.
That done, you'll need to go to your EDD settings and select licenses. Go to Downloads > Settings > Licenses and enter the license you received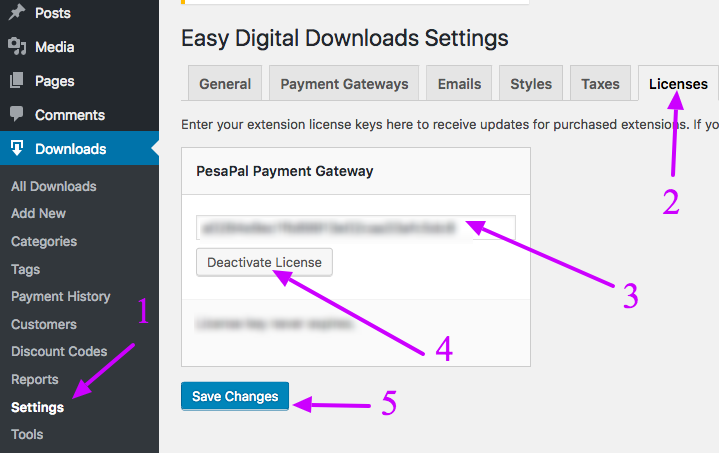 Go to Settings
Select Licenses
Enter the license you received in this input field
Click "Activate License" (It turns to "Deactivate License", like in this diagram, after the license is successfully activated)
Click "Save Changes"
That done, still in Settings, go to "Payment Gateways", and in there, enter your PesaPal consumer key and secret
While you are testing, click "Test Mode". This allows you to test the gateway without using real funds. Remember to turn this off when your site goes live.
Also, note that in test mode, please sign-up and get a consumer key and secret  from demo.pesapal.com
Make sure that the "PesaPal" gateway is checked (as shown in Figure 2)
When you register an account with PesaPal, a consumer key and consumer secret are sent to the email you registered with. Please retrieve them and add them to the "PesaPal Consumer Key" and "PesaPal Consumer Secret" fields. You don't need to change any other setting; click "Save Changes" then go and make a purchase as a customer and select "PesaPal" during checkout.
NOTE: For tests, we highly recommend that you register for an account at demo.pesapal.com, get a consumer and secret key and enable test mode.
NOTE: If for some reason you didn't receive your Consumer key and consumer secret from PesaPal, please login to your merchant account and scroll to the bottom till you find the area where you can resend the details.
If done correctly, you should see PesaPal as one of the payment methods during checkout.