You're probably thinking what's a Kanzu? And is Woo Chinese? Well Woo is most probably Korean but we will let you off for that one since Woo is almost always confused with Wu, who is actually Chinese. I think I lost you somewhere there. But lets get back to the point. Who is WooCommerce and what's Kanzu Support Desk?
WooCommerce is a very popular WordPress plugin that is also an online store that comes in a wonderful gift wrapped box easily opened by just a couple of clicks. On the other hand Kanzu Support Desk is this really cool WordPress plugin that helps your customers like you because they can easily let you know when something's broken or when Google can't give them a satisfactory answer ( what's a Kanzu?). In the end you and your customers become really tight and they buy more stuff and perhaps even invite you for their exclusive birthday parties.
In a nutshell the WooCommerce Kanzu Support Desk integration brings great customer care with a personal touch to your online store. In this article we are going to look closely at this integration and how an e-commerce store can leverage it to generate happier customers.
We are going to assume the following:
You have installed, activated and set up WooCommerce
You have installed, activated and set up Kanzu Support Desk
The first step is to enable the integration in the Kanzu Support Desk settings.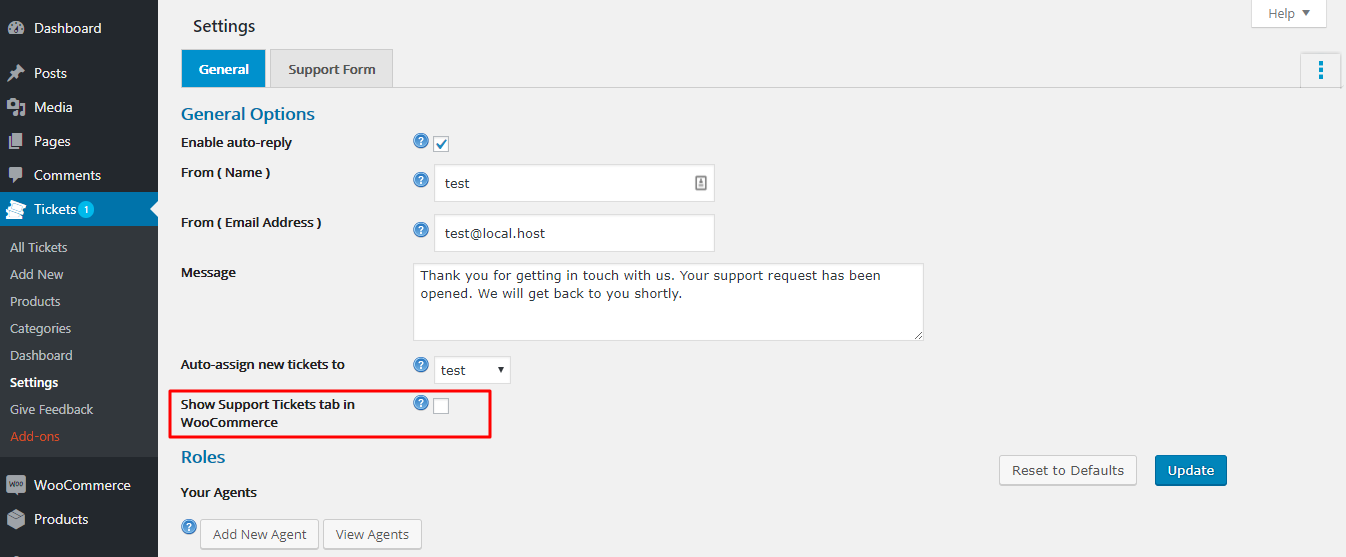 Well if you were expecting to fill out a couple of forms, scan your thumbprint and prove that you are actually not a bot by doing a couple of push ups we are very happy to disappoint you. Once you have enabled the Support Tickets tab, Kanzu Support Desk will automatically hook into WooCommerce and create a Support Tickets tab whenever you view a product.

So what's happening in the back-end? We're glad you asked! Kanzu Support Desk creates a product taxonomy which contains all the WooCommerce products in your store. So when you receive a support ticket you simply assign it a product so Kanzu Support Desk can know which tickets belong to which product and appropriately display them in the support tickets tab.

So how do I assign a product to a ticket? You're well on your way to becoming our best student. In the Reply Ticket screen enter the product name in the Products meta box and click Add. You can add as many products to a single ticket by separating them by commas.

All the customer has to do is to check out the Support Tickets tab on that particular product and they can track information about their support ticket and go to sleep at night confident that somebody somewhere is up all night at a keyboard tirelessly laboring to fix their problem.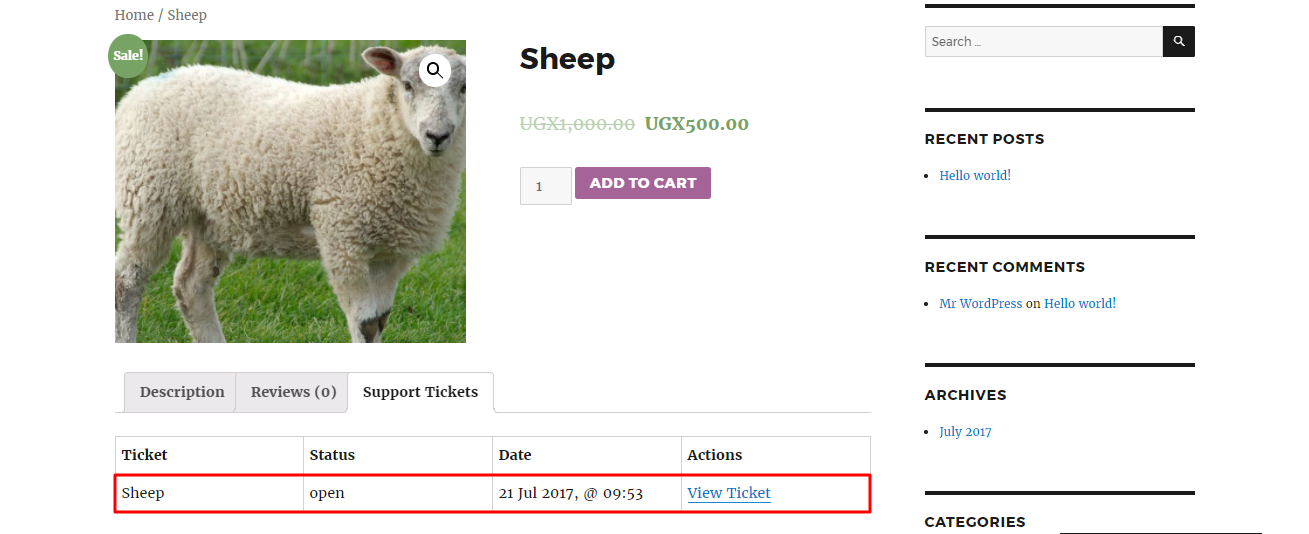 And that's about it. Your customers can seamlessly track their tickets right inside your e-commerce store and you can have the peace of mind that comes with an intuitive WordPress plugin that beautifully organizes all your customer support in one place.
Howdy. We have really wonderful news for you. Contact Form 7, the big dog in contact form management on WordPress and Kanzu Support Desk, the intuitive WordPress help desk met, had a cup of coffee and really liked each other. So much so that you can now integrate Contact Form 7 into Kanzu Support Desk and create tickets directly from your contact forms. Just like that!
Simply head over to your contact form editor and select the Kanzu Support Desk  tab. Yes, we put a ring on it.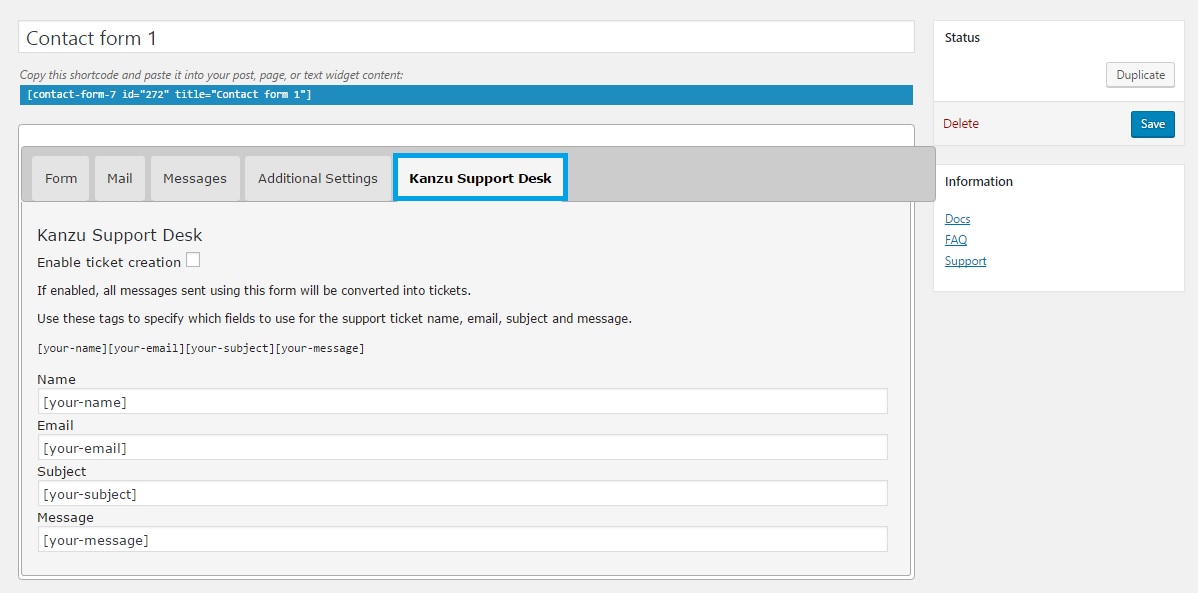 Select the Enable ticket creation option to enable Kanzu Support Desk to create tickets directly from all entries into this contact form.
Before tickets can be created directly from your contact form, you must specify which fields in your contact form will correspond to the ticket name, email, subject and message using the inbuilt Contact Form 7 tags.
Simply select and enter which tag you want to use for  Name, Email, Subject and Message. Please note all these fields are required and the integration will not work properly if one or more is missing.
Finally save your contact form and enjoy the match made in heaven, as they say.
With love from the folks at Kanzu Code.
Good morning class. Today, we'll look at the exciting topic, "The life and habitation of fresh water snails"…. Oops. Wrong lesson. We have something way cooler. Let's figure out how to forward all your top secret support emails to our highly secure Kanzu Mail server.
There are two ways we can get this done depending on where we are starting from (where your support email address is hosted). If your support email's a Yahoo or Gmail address e.g. yoursupport@gmail.com, method 1 covers you. If your email's hosted at your domain, you'll  need to use the Forwarding from a server option:
Either from an email client e.g. Gmail, Yahoo etc.
Or from a server
Forwarding from an email client
Forwarding from a server
OK. Lets get the ball rolling. Click on the gear icon in the top right corner in Gmail and select Settings 
In the Settings page head over to the Forwarding and POP/IMAP tab. Under it click the button Add a forwarding address 
In the pop up box that appears enter the Kanzu Mail email address that you created and click Next
 If all is well another browser window should open as shown below. Please click Proceed  so we can go do some more eh.. top secret stuff.
That done. The mini browser window should close now and another pop up will appear in the Gmail settings. Click OK.
Now head over to your WordPress admin dashboard and to Tickets. Yippee you should have your first ticket. If you don't see it wait a couple of minutes and reload the page.
Sorry to break up your happy dance but its just Gmail with your confirmation code. Copy it to the clipboard.
 That's about it. Don't forget to click the Save Changes button at the bottom of the Gmail Setings page.
After activating KSD Twitter, navigate to the Twitter tab shown below

Before we get to what those shiny new settings actually do lets first authorize our twitter plugin to exactly what we want it to do. Hit that 'Authorize Application '

If all goes well then you should see the words "Already authorized" next to the "Authorize Application" button.
With that all done we are in the last mile. Specify how often you would like your add on to pull tweets from your Twitter timeline and how many at a time it should pull. We have set sensible defaults for you but hey, one man's sensible is another man's completely nuts.
Have fun.
Please note that before you can use KSD Olark you must be a paid subscriber with Olark.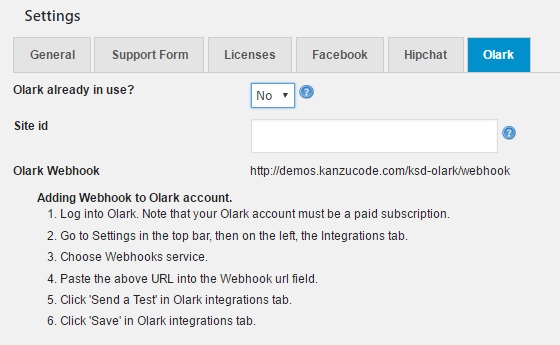 Once you have activated KSD Olark reload the settings page and navigate to the Olark tab as seen above.
Do you want to have the Olark Chat Widget on your site front end? Well we are more than glad to help you out and append it to your site on the front end. Simply select "No" on the option Olark already in use?
Then head over to your Olark dashboard and copy and paste you Site ID over here so we can know who we are talking to.
That done, now follow the step by step instructions on how to complete the integration between KSD Olark and your Olark account. They might look complicated at first but trust us they are all bark and no bite!
Once you have successfully activated your KSD HipChat, reload the setting page and a HipChat tab will appear as seen below

Enter the room name and the room token which can be found on your team's dashboard and save the settings.
To get these details, login to HipChat and click Rooms and select the room you'd want to receive notifications in: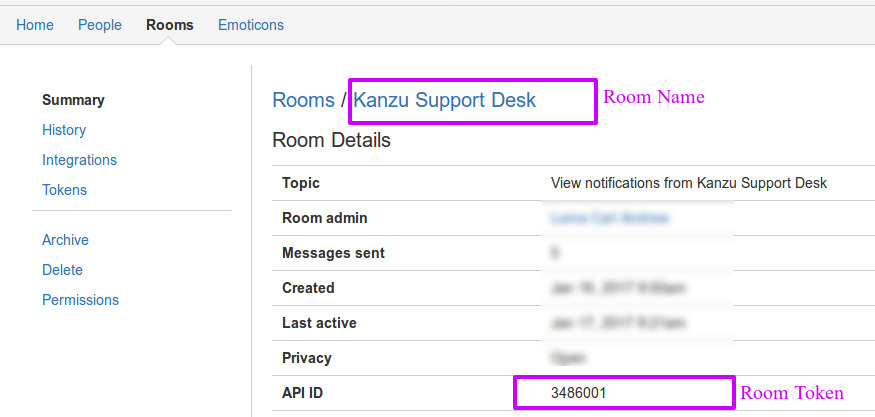 That's about it. You are now all set to receive notifications in your cool chat rooms among your hip roomies.
After activating your KSD Facebook license, reload the settings page and a Facebook tab should appear as seen below.

Awesome. Now head over to your Facebook page and copy and paste the URL into the text box. That done one more step to go.
Hit the login button to integrate your shiny new add on with Facebook and that's about it.
After installing and activating the KSD Mail plugin head over to the Tickets > Settings > Licenses tab and enter your license and click the Activate License button

Once your license has been activated click  create a free Kanzu Mail account set up an email account with Kanzu Mail to which you shall forward your emails. But that's for later. Let's move on.
On clicking the link a new window shall be opened at http://kanzucode.com/create-mail-account.  Fill out the form and click Create Account. Remember to note down your username and password for later.
Now head over to the Tickets > Settings > Kanzu Mail tab.

Awesome. Let's use that username and password you made up earlier so we can log  into Kanzu Mail from the add-on so that it can retrieve your forwarded emails. Hang in there we're almost done.
OK. Once you have successfully logged in the add-on can successfully retrieve emails from the Kanzu Mail server.
But how do my emails get to the Kanzu Mail server?
Yes. Great question Einstein. Well all you need to do is set up the email account that receives your support email e.g. support@acme.com to forward your emails to your Kanzu Mail account at username@ksdmail.kanzucode.com. In case you're not sure how to do that here's a nice guide that will help you out.
One more thing. We need the forwarding email address so that everything can work nice and smooth in the background. Fill out the From( Name ) and From( Email Address ) under the General tab and click the Update button in the bottom right corner.

And that's it. Pour a cup of coffee, put your feet up and watch some cat videos on YouTube and let Kanzu Mail do everything. Every support mail that comes into your email account shall be automatically forwarded and a ticket created inside Kanzu Support Desk.
Talk about making customer support easy!