After activating your license, the knowledge base comes alive! Your knowledge base presents information to your customers before they create a support ticket. This allows them to 'self-serve' (like at an all-you-can-eat buffet). When a customer goes to your ticket submission form (wherever you've added it), the articles you created in your knowledge base will be presented to them broken down by category.
See creating content on how to make the most of this
Also, you can also create a beautiful knowledge base landing page that showcases your most important content. See add a landing page for this
Your knowledge base articles have a navigational sidebar automatically appended to them. Check out more details on how it works here
Your content's only good to the extent to which your customers find it helpful. Each article automatically has a form to receive feedback on how good (or not so good) the article is. See more here on how to check article feedback
Creating content
More on this here:
Landing page
The landing page shows all your knowledge base articles grouped by categories. The landing page is automatically created when you install the add-on named knowledge-base
The Sidebar
Every knowledge base article has a sidebar that helps users navigate through articles and view related content. It displays your knowledge base articles grouped by category.
Feedback & Related content
Every knowledge base article has a form automatically appended to it  that requests the user to rate the article.  This feedback allows you to improve your articles. Also, related content is added to allow your users to seamlessly navigate to other content in the category.

The collected feedback is displayed in the admin end, next to each article:
and on the article's edit screen.
 Restrict Article Access
When you are creating a new knowledge base article you can restrict who is allowed to view that article based on four parameters namely All, None, Username, Role.
All restricts everyone from viewing.
None removes all restrictions. to viewing the article
Username allows only specified logged in users to view the articles
Role restricts viewing the article based on one or more roles.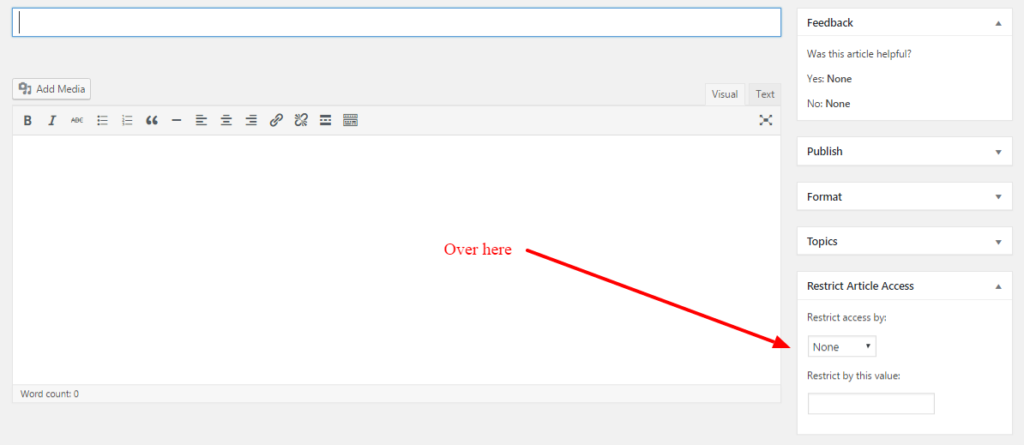 Restrict Topic Access
It is possible to restrict entire topics from being viewed.